Ultimate Sustainable Home Rental Experience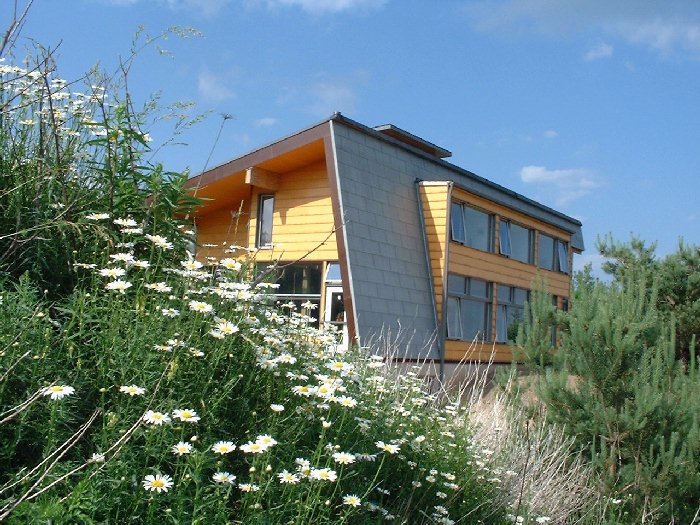 From the moment you arrive at this luxurious, secluded and supremely natural residence, you will be surrounded by 9 acres of breathtaking walkways, forest, open skies and the open fields. Eco-chic style meets passive solar architecture in this masterfull award-winning sustainable home built with natural materials. Everything is state of the art, from the exquisite light fixtures throughout and heated floors, to the open concept kitchen, stocked with all new amenities. The expansive and private deck is the best room in the house and the perfect place for sunbathing, entertaining or barbecuing. This is a one of kind solar powered home with total privacy.
Eco-Features
On the roof are three large solar thermal panels that provide hot water heating for both domestic (showers, baths, and taps) as well as in-floor heating systems. A large awning on the south face of the house above the upper level windows is composed of more than 30 solar photovoltaic panels that are capable of generating more than 6.2 kW of electricity, frequently supplying more than is required to operate the house in the spring, summer and fall. Green roofing, literally a living growing roof encompasses the entire roof surface of more than 1,000 sq. ft. providing substantial cooling service in the summer while improving insulation in the winter, not to mention reducing rain water runoff. The north wall structure is composed of straw bales (from a local farm) with a natural sand mixture stucco surface, providing a "breathing" wall for improved indoor air quality, elliminating the need for a mechanical heat recovery ventilator, and providing as much as R50 insulation in a renewable building material. Other important features include sahara architecture stack effect air cooling for the summer, passive solar design, and high quality fibreglass framed windows.
Rental Features
Property Type

Detached Strawbale Hybrid
3,000 sq. ft.
2 storey
9 acres

Location Type

Rural, Hills, Valley, Farms, Village

Bedrooms

5 Bedrooms, Sleeps 8
Master Bedroom 1 King
Bedroom A 1 Queen
Bedroom B 1 Double
Bedroom C 1 Queen
Bedroom D 1 Double (basement)

Bathrooms

2.5 Bathrooms
Master - toilet, shower, tub, sink
Upstairs shared - toilet, tubs/shower, sink
Extra - toilet, sink

Kitchen

Convection Oven, Microwave/Convection Oven, Four Burner Electric Stove, Propane BBQ, Toaster, Panini Maker
Large fridge, pantry, cold room
High efficiency dish washer
Cutlery, Dishes, Cups, Blenders
Fresh herbs in the indoor garden

Entertainment

Home theatre, climbing wall, indoor garden, solar powered internet and wifi

Attractions

Bruce trail, Hockley Valley Resort (spa, skiing and golfing), Orangeville Theatre, Great Restaurants (Blue Bird, One 99, Soul Live and many more)

General

Wood Stove, BBQ, walking trails on and connected to property, hammock, full kitchen, laundry facilities, and much more.
Rate Details
Natural home rental experience rates for this solar powered house located in the Hockley Valley, on top of the Niagara Escarpment, a World Biosphere Reserve designated area, with all the activities anyone could desire, and only 45 minutes from the Airport, or an hour from downtown Toronto.
Rates

$700/2 nights
$2,000/week (7 nights)
$4,500/month (30 nights)
negotiable for longer terms

Fees

15% HST
winter driveway clearing extra, $80/clearing
cleaning, $200/cleaning as requested
Additonal Security deposit is $300
Non refundable registration fee $250 (is incl. in night rate)
50% of total balance upon registration
100% of total balance 14 days prior to renting date
Payment by bank draft, e-transfer, or credit card on-line using PayPal
Dates available: September to November by the week or weekend
Email: wilsonjd9@gmail.com
Phone: 416-450-2499 (Ontario, Canada)
Map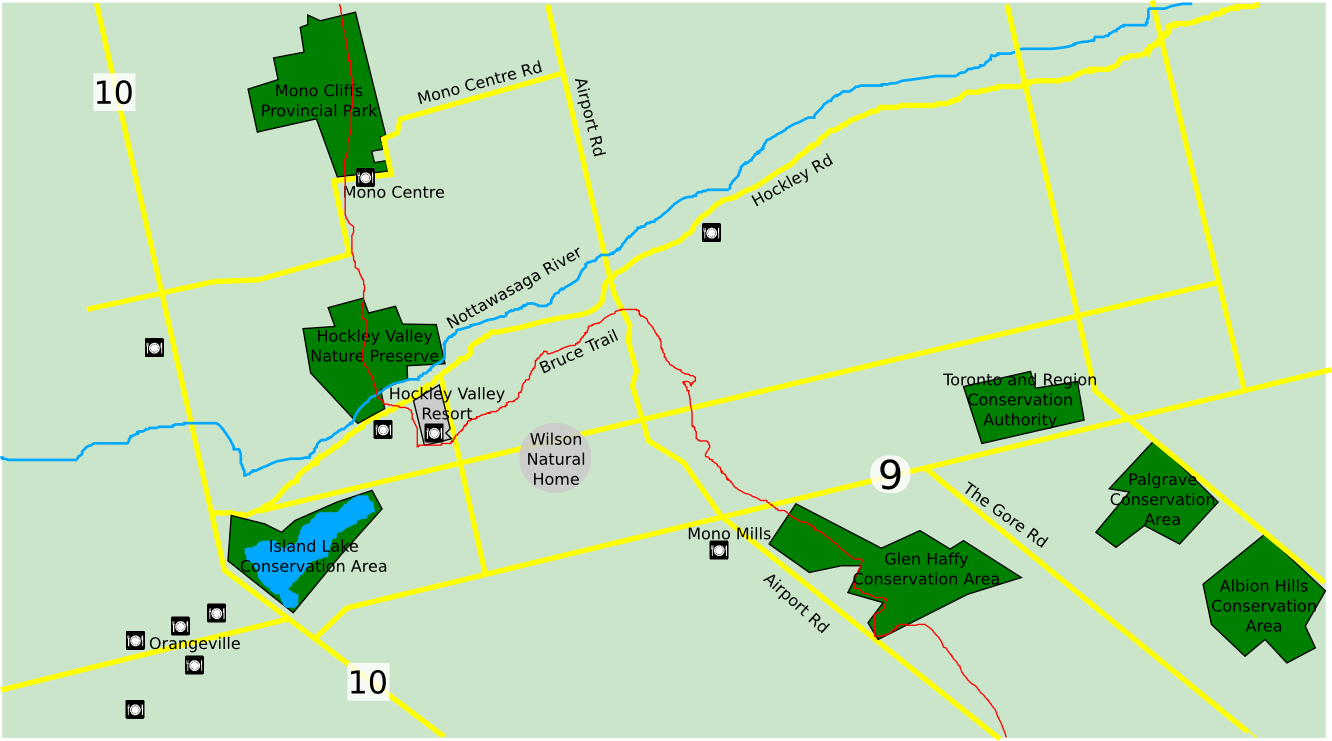 Nearest Airport: Toronto Pearson International at 60 Kilometers, 45 minutes, straight south on Airport Road
Nearest Highway: Highway 9 - 5 Kilomters, 5 minutes drive
Nearest Restaurant: Woodside - Hockley Valley Road, 5 minutes drive
Nearest Ski/Golf: Hockley Resort - 3rd Line, 5 Kilomters, 5 minutes drive
Nearest Hiking: Bruce Trail - 5th Line, 0.5 Kilomters, 10 minute walk
Car: necessary


: Restaurant
Walk five hundred feet east on 5 Sideroad to 5th Line from the house to get on the Bruce Trail.
Photos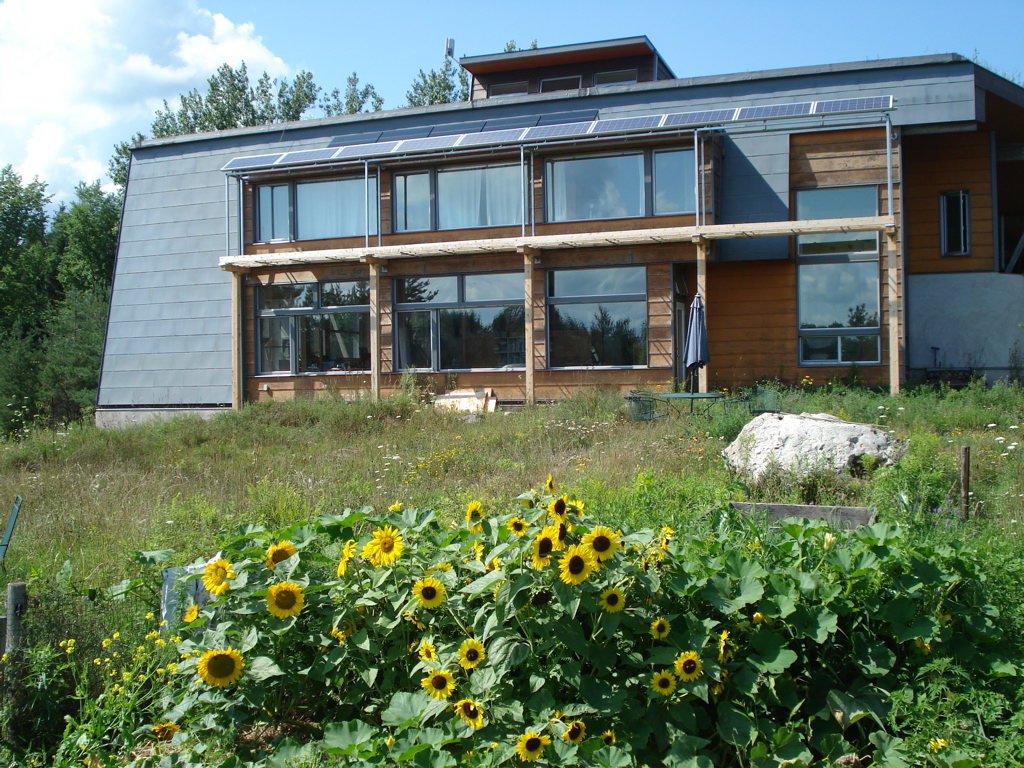 1.2 kW Solar PV in 2008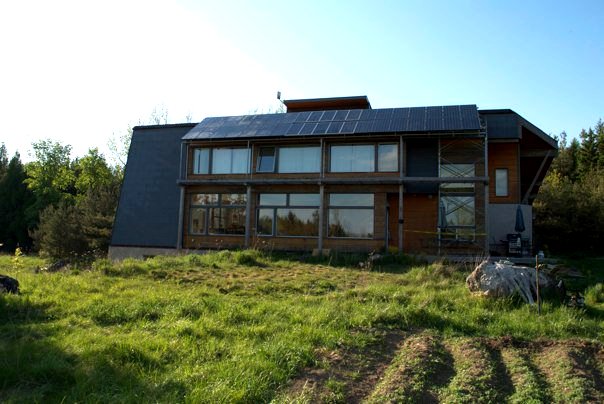 6.2 kW Solar PV in 2011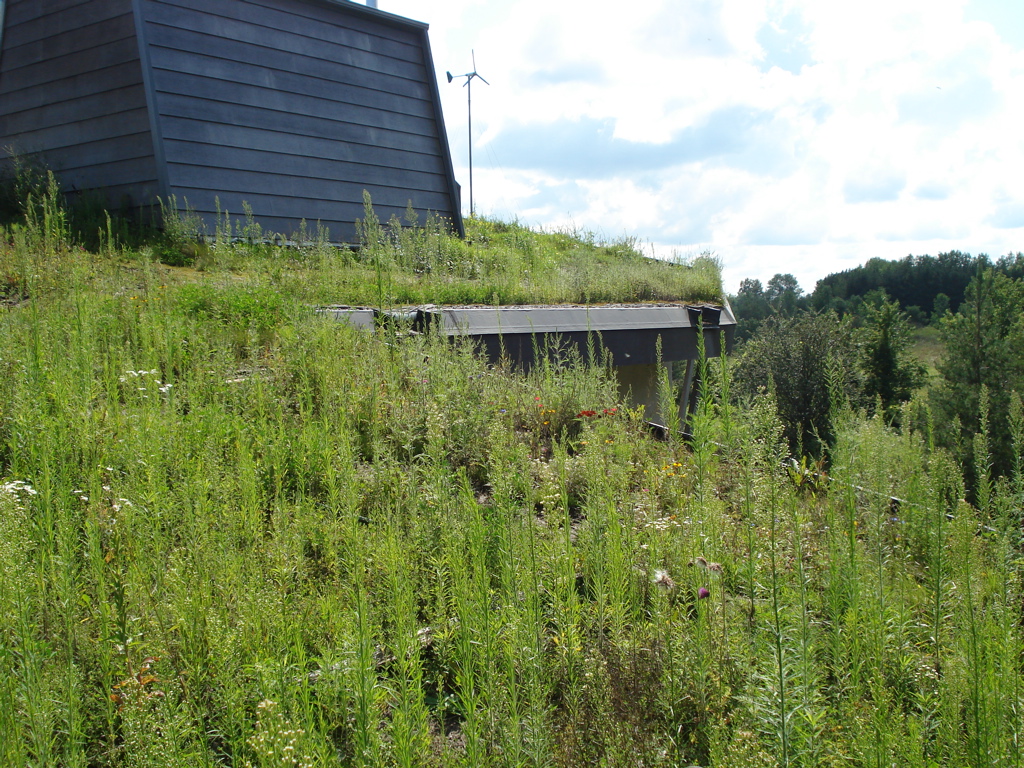 Green Roof

Private Deck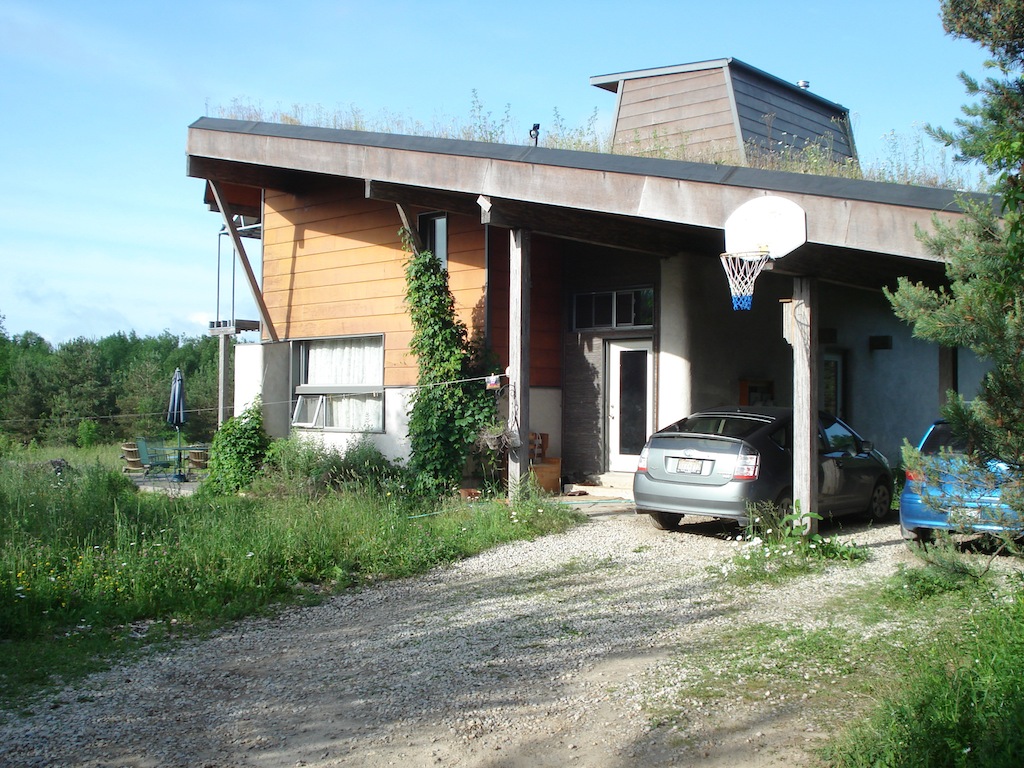 Entrance with Car Port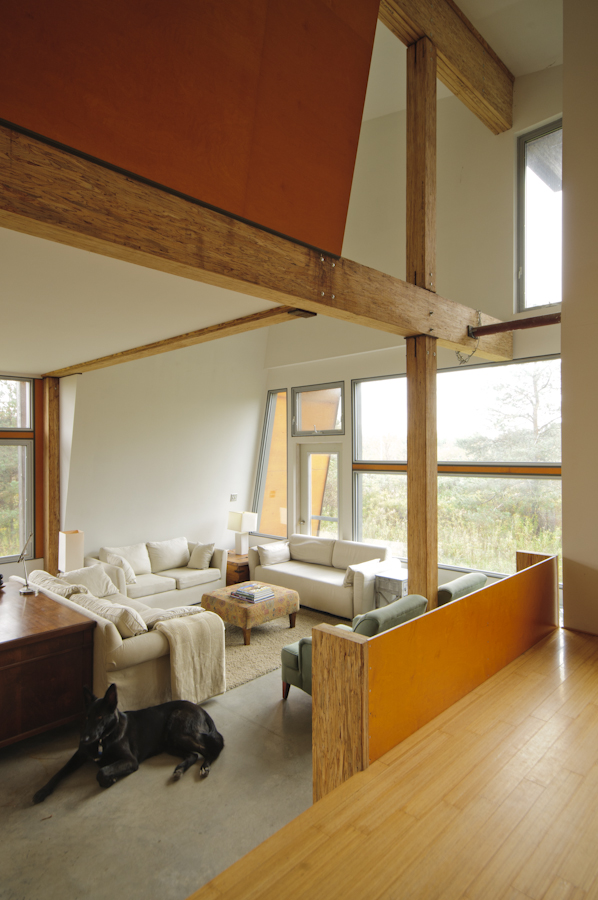 Interior Living Room from Kitchen - Photo Credit: Stephani Buchman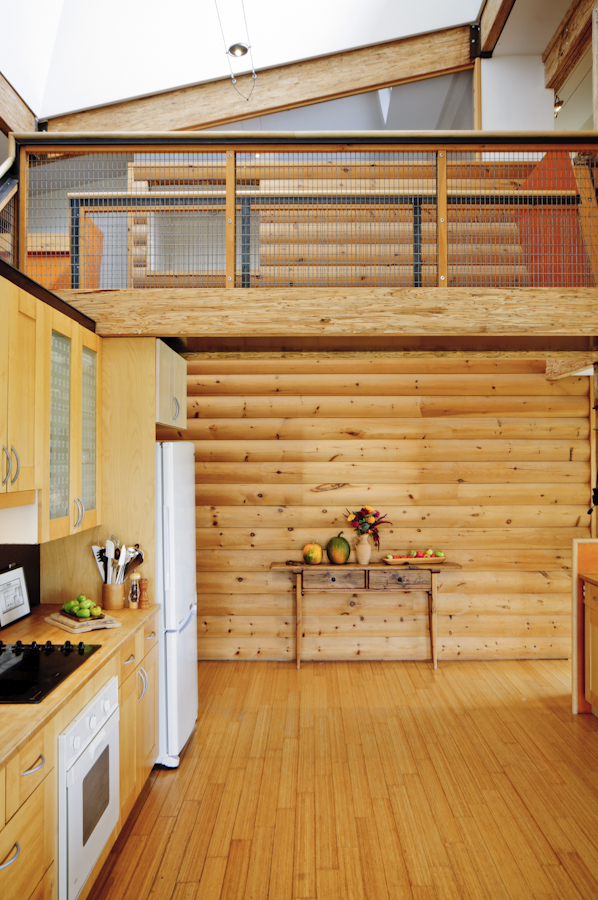 Interior Kitchen - Photo Credit: Stephani Buchman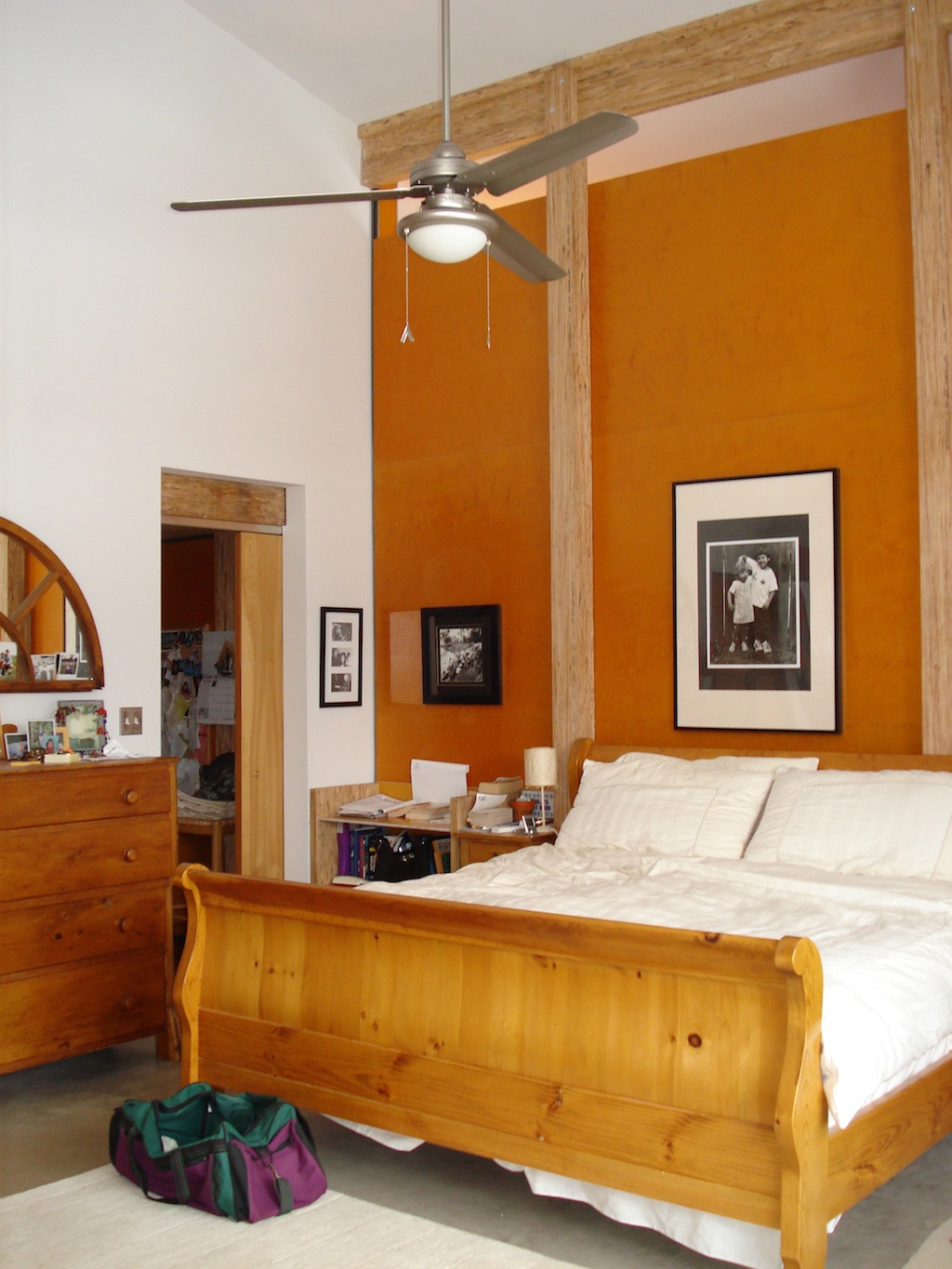 Master Bedroom, Ground Floor, King Size Bed
Reviews
"When it comes to living green, you can't do much better than the Wilson family." - Toronto Star
About
More than a decade ago we set out on a journey to create a home that was sustainable for our children (my son Ian was born in 1992 and my daughter Claire was born in 1994). Part of that plan was to make the house a renewable energy power plant eliminating the need for any non-renewable energy sources. By 2001 we had built our award-winning sustainable natural home using local straw bales for the north wall, a green roofing system we custom designed, and passive solar design.
Then in 2002 we selected Solera Energies to start building our renewable energy system in the form of a 1 kW Bergey wind turbine and a 400 W Siemens solar PV array in a net meter (running the meter backwards) configuration. Then in 2009 again working with Solera we added a 1.2 kW Sharp solar PV array on the Ontario renewable energy standard offer program (RESOP) for which we were being paid 42 cents/kW for 20 years.
Next, to further our goal of achieving 100% renewable and in order to turn the house into a power plant (generating more than we consume) we've added an additional 6 kW of Sanyo solar panels that complete the passive cooling awning system that has always been the planned design of the house. 5 kW of the new Sanyo panels and the 1.2 kW Sharp panels are now combined on a MicroFIT (the 1.2 kW RESOP system was grandfathered into the MicroFIT program upon request) contract for 20 years at 80.2 cents/kW generating about $500/month in income.
Most recently, in 2012, we added three panel solar thermal hot water heating system. This new solar thermal system provides dual duty, pre-heating our domestic hot water for showers, baths and sinks. In addition, during the winter when the water doesn't always reach warm enough temperatures for domestic purposes, we pump the lower grade heat into the basements concrete flooring using it as a heat storage facility, reducing the demand on our in-floor heating system.
Video
This home costs less to build than a conventional custom built home while saving you thousands every year in eliminated energy bills. The award-winning sustainable design by highly acclaimed eco-architect Martin Liefhebber (featured in the documentary video) proves that form, function, beauty and comfort can work together to save the environment, improve your health and provide a reasonable return on your investment. Learn how in this 25 minute documentary that explains all the major elements of the design including details on how the house was built.
For more information about the documentary and to purchase the DVD click here.
John Wilson
Email: wilsonjd9@gmail.com
Phone: 416-450-2499 (Ontario, Canada)
Copyright © John Wilson